---
To determine whether your intervention/treatment plan is producing positive results
To identify side effects
To adjust the treatment plan / to stop treatment if required
---
Online monitoring of a case helps investigators review the progress of a treatment and take immediate measures, if needed, without waiting for the patient's next visit.
One of the main areas you can monitor progress is on your dashboard, where you may view:
Your tasks (to monitor the progress of tasks completion)
Alerts (you can set the limits for survey results to get the required alerts)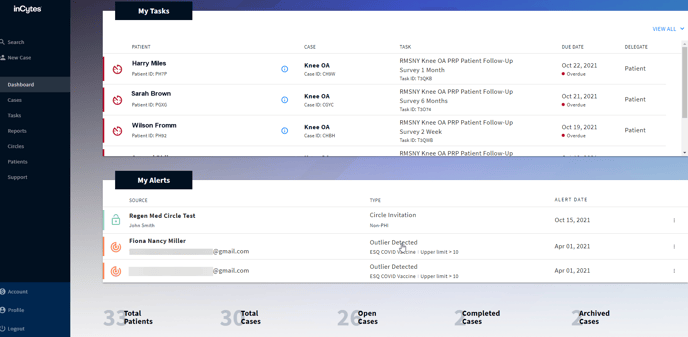 Ways to Monitor Progress on inCytes™
You can monitor the results of an individual patient and compare the results with other patients.
1. On the "Case Overview" page, you can find general information, like how many surveys were completed in each particular case.
Tip: If you own many cases, use the search bar at the top of the case overview screen or scroll to the bottom of your list and more cases will appear.
You can also sort the items in ascending/descending order by clicking the arrow icons at the top of the required column.

2. To see a specific completed or overdue task, navigate to the "Tasks" list.
Use the Task filter to sort out the required tasks by:
Status (Open, Completed)
Delegate (Investigator, Patient, Service Provider)
Patient Status (Registered, Not registered)
Due period (From-To): filters the tasks by the dua date of the survey

In this list, you can see the delegate of the task and the due date of the survey.
From this menu, you can email the survey delegate and remind them to complete.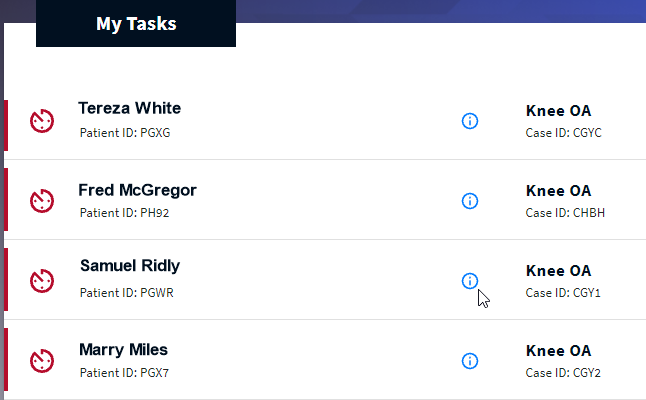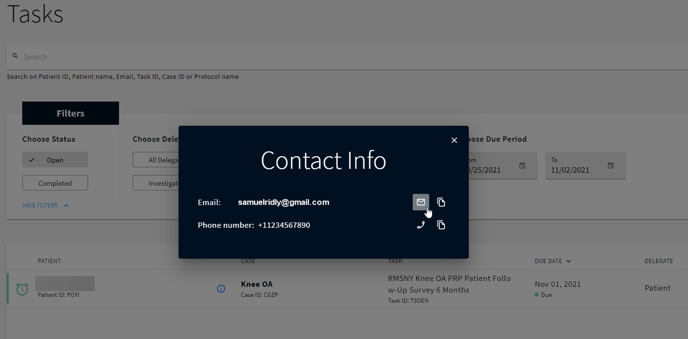 You can also do so from your dashboard (from the 'My Tasks' field)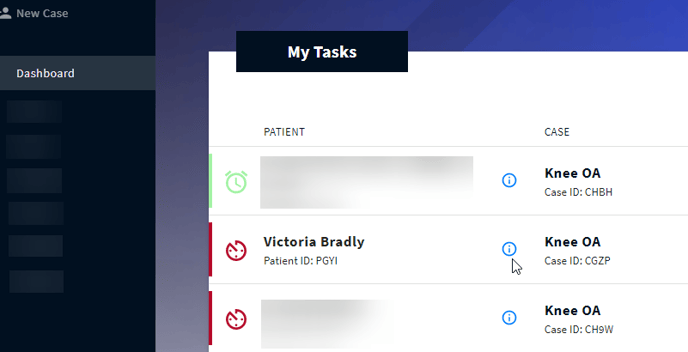 Note: All delegates receive survey reminders that are sent out automatically based on the survey settings you choose when creating your protocol.
Your team members can see the tasks assigned to them on their dashboard within the task list.
Patients receive survey due/overdue reminders within their Benchmarc™ (personal patient portal) dashboard.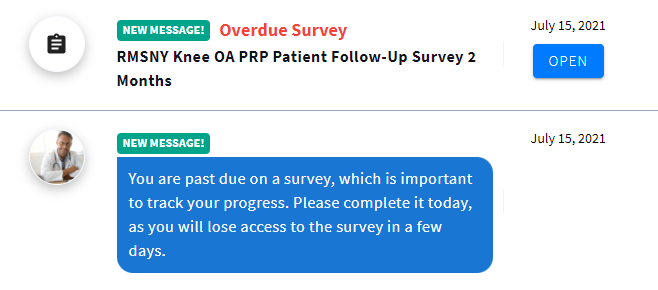 3. On the Circle Overview page, you can find Circl Analytics where you can monitor your
4. Investigators can now easily access and compare patient images, case details, and other Benchmarc™ patient data. To do this:
4.1. Navigate to Cases and select the required case from the list.
4.2. Find the Patient Progress field and click VIEW PATIENT'S RESULTS at the top right of the field. Clicking this button will immediately take you to the patient portal where you can view the information about the patient progress.
Note: You can access the portal of both categories - registered and not registered patients.